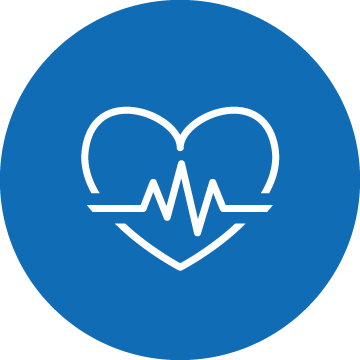 The Diagnostic Medical Sonography (DMS) program offers students the knowledge and skills for performing high-quality diagnostic exams to aid the physicians in making a diagnosis. Most sonographers work in hospitals covering various shifts (nights, weekends, and holidays), medical clinics, and private practices. Sonographers may also find employment in the industrial sales of equipment, traveling sonography agencies, and educational institutions.
Graduates of this program will receive an Associate of Applied Science in Diagnostic Medical Sonography. The program is an intensive, six-semester program, not including prerequisite courses and is designed for students new to patient care. The sonographer must have an in-depth knowledge of physics, pathophysiology, human anatomy and physiology, and sonographic technique to create a diagnostic ultrasound image. Physicians depend on the sonographer's experience to evaluate normal and abnormal body parts. The DMS program is accredited in general studies, which include Abdomen/Small Parts, OB/GYN, and Vascular Technology. Students of this program are eligible to sit for the national certifying exams of the American Registry of Diagnostic Medical Sonographers. Upon passing the Sonography Principles and Instrumentation and one of the specialties (Abdomen, OB, Vascular), a student is certified as a registered diagnostic medical sonographer (RDMS). For vast employment opportunities, it is advised to have all three specialty exams passed upon or following graduation.
The Joint Review Committee on Education in Diagnostic Medical Sonography (JRCDMS), is the accreditation agency of the sonography program at LCCC. The JRCDMS has established specific criteria for clinical settings for students, thus limiting the number of accepted students pending clinical site availability. Most students are employed immediately following graduation. The program begins a new class each summer.
The last three semesters of the program are primarily clinical experience, and students may be placed in various hospitals or clinics in Wyoming, Colorado, Nebraska, or Montana. Students interested in the program may contact the Program Director, Clinical Coordinator, or the Admission Office for details about the program admission process and timeline. Student selection occurs in March based on the application, prerequisites completed or in-progress, and other criteria as indicated in the program application material.
Laramie County Community College does not discriminate based on race, color, national origin, sex, age, religion, political affiliation, or disability in admission or access to, or treatment or employment in, its education program or activities.
The following prerequisites must be in progress or complete with a grade of "C" or better by the application deadline (February 28) for the sonography program. Students are encouraged to contact the sonography faculty for program-specific questions.
Contact Information
Contact information is available on the Diagnostic Medical Sonography program website.
Map your individual academic plan of courses with your College Advisor.
If students choose to transition to another program within the Health Sciences & Wellness pathway, they should be particularly aware of the choice points that indicate when a decision to branch off into another program must be made to ensure credits and time are not lost.
Coursework common to all degrees within this pathway is indicated by CAC, Common Academic Coursework, in the program map.